Can I Add Batteries to Your Existing Solar System? YES
Michael Kibirige
For years, batteries have been a way to store excess power for solar systems. But until recently, due to their high cost and low efficiencies, they only made sense for a few, mostly off-grid solar systems. However, as battery prices continue to decline and batteries themselves become more and more effective, they are growing into a viable option for many grid-tied solar systems as well.
If you installed your system a few years ago, batteries may not have made sense. But as the market changes and technology advances, you may find yourself wishing you could take advantage of energy storage.
If you're wondering whether or not you can install batteries in your existing solar system, the answer is yes! There are several ways you can integrate battery power into your existing solar system.
Before we get into your options for adding batteries to your system, we want to quickly go over how batteries work.
As the sun shines, your solar panels collect the energy and turn it into DC electricity. The electricity is then sent to your inverter, which converts that power into AC electricity – the form you can use in your home or business. As your system produces energy, it's used to power your lights, appliances, and devices. But what happens when your system produces more electricity than you use?
If you install a battery, here's where it would come in. When you're using more electricity than your solar system is producing, you can draw on energy stored in a battery, instead of drawing it from the grid.
Adding a Battery to Your Existing Solar System
In most cases, adding a battery to an existing grid-tied solar system is possible, however, the level of difficulty is dependent on whether or not your system was designed to do so. Here are the ways to install a battery in your existing solar system.
Storage-Ready Solar System
Best-case scenario, you knew you'd eventually want to install batteries and planned for it when having your system installed. Maybe you were waiting for prices to drop or wanted to keep the upfront investment during installation as low as possible. Either way, you prepared yourself for the future. Your inverter is ready for the installation of a battery when it makes financial sense to you. This is the cheapest and easiest option, requiring less labor and materials than the other two options.
If you did not install a storage-ready system, there are two main ways to integrate your battery into your system – DC Coupled and AC Coupled.
With a DC Coupled System, your inverter will be replaced by one that works with a battery and a solar system. These are known as hybrid inverters. DC power produced by your solar panels is used to charge the battery. From there, the power is passed through the hybrid inverter, which converts the power into AC electricity. Then, the AC power can be either used in your home or business or go to the grid.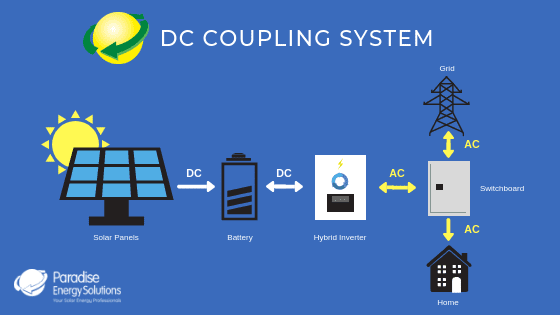 If you go this route, your system will lose less of the energy produced by your panels during the conversion process.  This is because power is only going from DC to AC, whereas in an AC Coupled System (explained next), all energy stored in the battery goes from AC to DC (to charge the battery) and back to AC again.  However, this option will likely cost more upfront due to the cost of the inverter and more involved labor.
DC Coupling could be a great option for you if you've had your solar system for some time and your inverter is approaching the end of its expected life.  Most string inverters last fifteen years, so replacing your inverter a little earlier with one that works with a battery could be to your benefit.
The next option, an AC Coupled System, uses your traditional inverter in addition to a second inverter, or a "storage inverter," that charges the battery.  DC power produced by your panels goes to the inverter and is converted to AC power as it always has. From there, the inverter sends it to your building if you're using electricity, to your battery if you're producing more electricity than you're using, or to the grid if your battery is fully charged.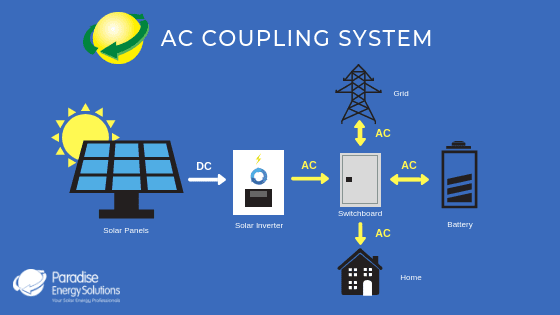 Typically easier to install, AC Coupling offers flexibility in terms of location, works with a variety of inverters, and is likely to be a lower-cost option.  However, it is slightly less efficient. Electricity stored on the grid and used in your home is AC, but batteries store DC power. For the battery to provide the power you can use in your home or business, it must then be converted to AC power.  This extra step causes more energy to be lost compared to DC Coupling.
Source: https://www.paradisesolarenergy.com